About Us
Brazen Acts of Generosity
In 1995, Les McNeill initiated a marvelously brazen act. With $5,300 and the unabashed belief that she could improve the status of women in the Greater Cincinnati area, she created the Women's Fund. Today, we are designing a community where all women can participate, prosper and reach their full potential. We produce groundbreaking research that has changed the conversation in back yards and board rooms. Les started a movement that is now a force for women's self-sufficiency.
We are proud to carry the torch.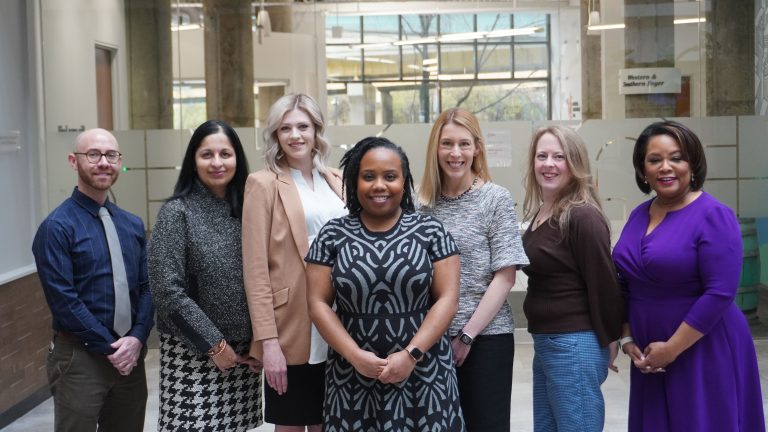 Women's Fund Leadership Council
Peggy Murriner
Leadership Council Chair
Founder, Pair Up Systems Technology & Business Consulting
Diane Altmix
Managing Director, Accenture
Nicole Armstrong
Founder & CEO,  Ellequate
Tammy Bennett
University of Cincinnati, College of Law
Jyotsna Bernet
Data Strategy Lead Business Analyst, 84.51
Kendra Davis
Tax Examiner, Internal Revenue Service 
Jenn Dye
Director, Jones Center for Race, Gender and Social Justice, University of Cincinnati College of Law
Chris Flores
Founder & Lead Planner, Three Corners Capital
Elizabeth Chasteen Day
State Organizing Director, American Civil Liberties Union
Karen Dudley Grissom
Communications Professional
Sally Lloyd
Professor (retired), Miami University Dept. of Educational Leadership
Tina Macon
President & Senior Consultant, AllMac & Associates
Whitney Owens
Chief Learning Officer, Cincinnati Museum Center
Karl Preissner
Director, Global Equality & Inclusion, P&G
Ann Schwister
Principal, Ann Schwister Associates
Rickell Howard Smith
President & CEO, YWCA of Greater Cincinnati
Annette Tice
Managing Director, EY-Quantitave Services (QS) 
Rick Williams
President & CEO, The Home Ownership Center of Greater Cincinnati
Community Partners & Volunteers
Advocacy Committee
Emma Bachelder
Jyotsna Bernet
Amber Brown
Nan Cahall
Kendra Davis
Elizabeth Day
Meridy Glenn
Tara Keesling
Liz Koszuta
Patty Lawrence
Rashida Manuel
Mary Carol Melton
Marla Morse
Amy Neyer
Lauren Ouart-Redman
Serena Owne
Jane Page-Steiner
Carrie Pastor
Allison Puchala
Joseph Puchala
Susan Rengstorf
Colleen Reynolds
Julie Schmidt
Erin Schnurstein
Anne Sesler
Ali Trianfo
Sarah Wessling
Community Engagement and Development Committee
Diane Altmix
Tammy Bennett
Chris Flores
Linnea Gartin
Janet Hill
Michelle Hopkins
Taren Kinebrew
Tina Macon
Jackie Marcschall
Peggy Murriner
Morgan Whaley
Deidra Wiley
Kyla Woods
Research Committee
Kelly Adcock
Olivia Ballard
Jillian Darwish
Leah Efken
Fernando Figueroa
Sarah Gideonse
Sara Gwiasda
Sarah Imran
Susan LaBonte
Lori Landrum
Sally Lloyd
Zoha Mian
Meghan Mullikin
Amy Neyer
Zeinab Schwen
Danielle Smith
Allison Tepper
Annette Tice
Bill Tucker
Dionn Tron
Rachel Wells
Jody Yetzer
Women's Fund Advisory Council
Mary Ayers
LaToya Barnes
Brittney Bolden
Jodi Cunningham
Kendra Davis
Ashley Feist
Dani Issacsohn
Kurstin Jones
Jeneya Lawrence
Dominique Love
Jocquelene Pressley
Ahmyah Smith
Community Partners
4C for Children
African American Chamber of Commerce
All-In Cincinnati
Amos Project
bi3
Brighton Center
Center for Closing the Health Gap
Charlotte Schmidlapp Fund, Fifth Third Bank Trustee
Chatfield College
Children, Inc.
Cincinnati Preschool Promise
Cincinnati State
Cincinnati Union Bethel
Cincinnati Works
City Link Center
Co-op Cincy
Cohear
Community Action Agency
Community Matters
Cradle Cincinnati
Dress for Success
Easterseals
Economic and Community Development Institute, Inc.
Family Independence Initiative
First Step Home
Gateway Community and Technical College
Greater Cincinnati Foundation
Greenlight Fund
Groundwork Ohio
Habitat for Humanity Cincinnati
Hamilton County Job and Family Services
Healthcare Access Now
Hispanic Chamber of Commerce
Home Ownership Center
Human Services Chamber
Jewish Federation of Cincinnati
Joining Forces for Children
Learning Grove
Lydia's House
Mercy Neighborhood Ministries
National Fund for Workforce Solutions
Northern Kentucky Chamber
Ohio Justice and Policy Center
Ohio Women's Public Policy Network
Planned Parenthood Southwest Ohio
Project LIFT
Queen City Certified
Rahma Community Services
Santa Maria Cincinnati
Sisters for Charity Cincinnati
St. Vincent de Paul
Support to Encourage Low Income Families
Union Institute
United Way - Butler and Warren Counties
United Way - Greater Cincinnati
University of Cincinnati - Blue Ash
Urban League
Women Helping Women
Women of Cincy
Women's Crisis Center
Women's Fund of Warren County
Workforce Innovation Center
YWCA
The Women's Fund Advisory Council
We believe the decision-making power should lie in the hands of people closest to a given problem. In collaboration with Cohear, we convene a group of everyday experts— women who are directly experiencing the cliff effect, barriers to child care and economic mobility, and understand the limitations of low-wage jobs to advise our work. 
This council informs our research and advocacy efforts by using their experience to contextualize systemic issues in their own lives. The Advisory Council also decides our programmatic grants each year.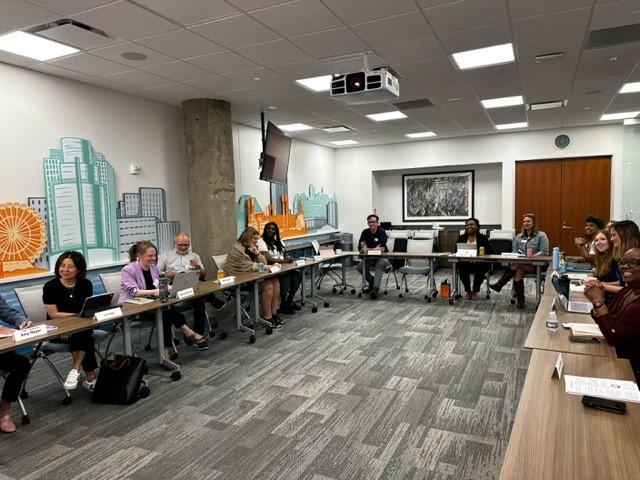 Community Partner Meetings
The Women's Fund convenes nearly 50 nonprofit community partners who offer programs for training and education, child care, employment and living wage to women in the Greater Cincinnati area. Meeting twice annually, this group discusses key initiatives and research that directly addresses gaps and identifies areas of momentum.
Our community partners supply first-hand accounts of barriers to economic self-sufficiency and help us identify macro themes that are occurring in the non-profit ecosystem. This insight informs our research and advocacy efforts as we look for systemic interventions.