Invest in the Women's Fund
Drive Change by Investing
Your gift is a powerful act of love for the women in our region, all 841,000 and counting. Your investment will help us continue to make a system that is just, equitable and supportive for women. Over 50% of the population in the eight counties we serve are women, yet women are underrepresented politically and are the largest demographic in poverty. Despite this overwhelming need, only 1.6% of charitable giving is directed towards organizations that focus on women and girls. We find this unacceptable. Woman are hardworking pillars of their families and communities. We believe, and research shows, that when you invest in women the whole community benefits.
Give Us A Call
---
If you have questions about investing in the work of the Women's Fund contact:
Friends, let's get together!
You pick the space, we'll bring the SPARK.
Women's Fund SPARK parties, our annual fundraising event, provide spaces for you to plug into systems-level change for women in our region. With our "watch-party" style event, you will experience: 
Being a part of the Women's Fund tribe.
Leaving equipped to reduce barriers to women's economic self-sufficiency.
Igniting energy with like-minded people.

 
Mark your calendars: September 24th through 26th: SPARK with us live, Sept. 25th at 2:00 p.m. 
Register to Host a SPARK Party!
SPARK Party Host/Hostess FAQ's
Still have more questions? Sign up for one of our FAQ sessions. Session 1, June 25th 12-12:45 p.m. Session 2, July 16th 2-3 p.m. Session 3, July 30th 12-1 p.m. Session 4, August 27th 2-3 p.m. 
SPONSORS, we have great opportunities for you!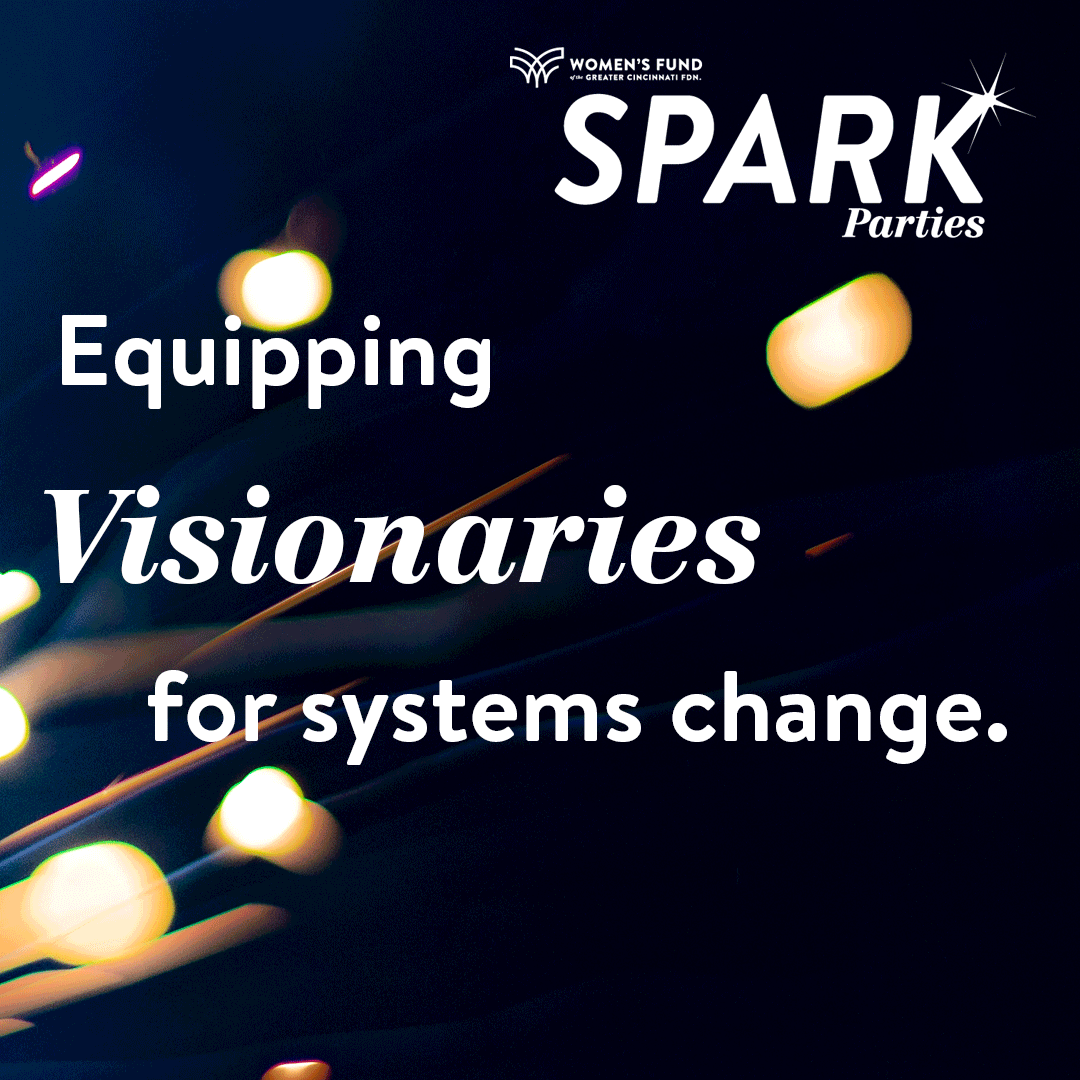 Giving Levels
FOUNDERS: $5300 - "The responsibilities and possibilities of change are within our power"
VISIONARIES: $1000 - "I envision a world where everyone thrives!"
365 SOCIETY: $365 - "I believe in equality for women every day!"
SUPPORTERS: $1 - $999 - "Count me in! I want to be part of the movement."
Ways to Invest
Annual Fundraiser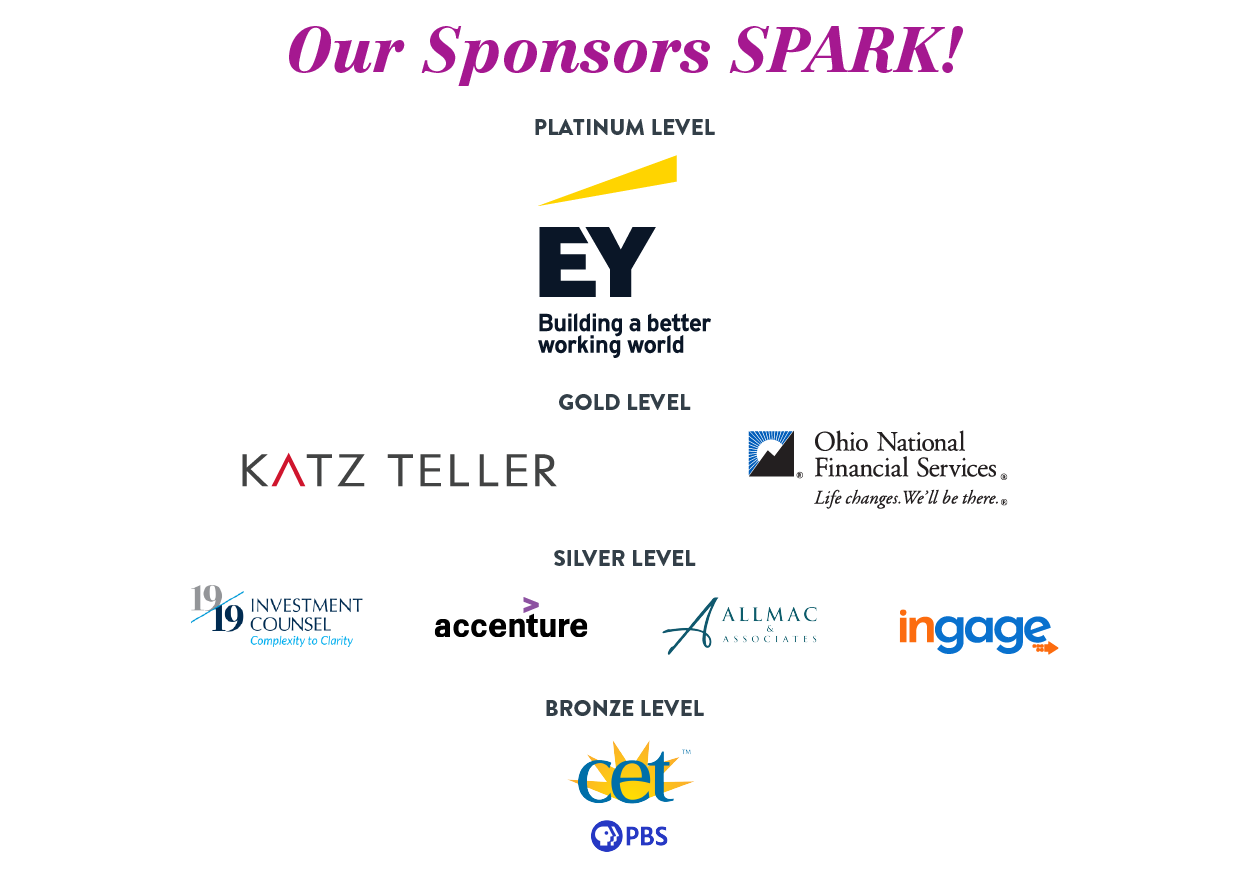 Our Past Speakers:
2020 – Nikki Giovanni
2019 - Soledad O'Brian
2018 – Dr. Mae Jemison
2017 – Abby Wambach
2016 – Cokie Roberts
2015 – Lisa Ling
2014 – Sen. Olympia Snowe
2013 – Phyllis S. Sewell
2012 – Marian Spencer
Individual Gifts/checks
Make checks payable to the Women's Fund of the Greater Cincinnati Foundation




Send to: Greater Cincinnati Foundation 720 Pete Rose Way, Ste. 120 Cincinnati, OH 45202

You may also donate through cash wire.




Instructions for Wire Transfers ABA # 043000096




PNC Bank – Charitable & Endowments Cr Acct #1014093644




Attention: Alexis M. Lundeen 216-222-2799




Reference: GCF DONATION TO THE WOMEN'S FUND




For Further Reference: the donor's name


Please contact Melissa Krabbe, Controller, at 513-768-6143 or by email at melissa.krabbe@gcfdn.org before starting a wire transfer.
Corporate Partnerships
Your organization has an opportunity to shine!
Corporations are change agents. Investments from corporations and organizations of all sizes empower us to address economic disparities and barriers, and work to eliminate them.
Corporate partnership opportunities are available year-round and range from $1,000-$20,000.
Benefits include complimentary tickets, logo inclusion on promotional materials, and special recognition opportunities. We can also customize your partnership experience.
Matching Gifts
Matching gift programs are a great opportunity to double, or even triple, the impact of your gift! Many employers sponsor matching gift programs and will match any charitable contributions made by their employees – and their spouses! Check with your human resources department to find out if your company has a matching gift program.
Qualified Charitable Distribution Through Your IRA
For those who are over 70 ½, we would love to be the beneficiary of your tax-free annual distribution. This is another way to have a big impact and fuel our mission.
There are two simple steps to make this happen:
Contact your IRA plan administrator to make a gift from your IRA to the Women's Fund of the Greater Cincinnati Foundation

Your IRA funds will be sent or transferred directly to us to continue our important work.
Securities
You may contribute gifts of stock or mutual fund shares.
Delivery instructions for Stock Donations
Charles Schwab - DTC #0164
Account Number: 3852-3821
Account Name: GCF DONATION – WOMEN'S FUND
Mutual Fund
For mutual fund shares or if you hold physical certificates, please contact Adrienne Taylor, Development Director, at 513-768-6118 or by email at Adrienne.Taylor@gcfdn.org, before initiating a securities transfer.
Estate Planned Gifts
Whether your gift comes from your will, retirement plan assets, life insurance, or other source, you can use a future gift to continue your charitable legacy after your lifetime.
Contact Adrienne Taylor, Development Director, at 513-768-6118 or by email at Adrienne.Taylor@gcfdn.org, to discuss your wishes.
The Purple Presence
The Women's Fund recognizes individuals who have supported our work for five consecutive years or more. Purple combines the stability of blue and the energy of red, it reminds us that only through true collaboration we can affect meaningful change. The Women's Fund honors and recognizes individuals who have supported our work for five consecutive years or more with a purple pashmina or pocket square.
| | | | | |
| --- | --- | --- | --- | --- |
| Alan Abes | Amy Diamond | Phillip Lanham | Sharahn Monk | Dianne Rosenberg |
| Julie Bernzott | Jane Domaschko | Bea Larsen | Marjorie Hiatt Motch | Rosemary Schlachter |
| Bernice Bishop | John Domaschko | Sally Lloyd | Peggy Murriner | Zeinab Schwen |
| Rosemary Bloom | Carol Fencl | Suzanne Lorch | Beth Naylor | Jane Shea |
| Martha Bolognini | Lisa FitzGibbon | Roni Luckenbill | Janet Neidhard | John Silvestro |
| Chris Bradburn | Vanessa Freytag | Marilyn Maag | Sally Neidhard | Mary Stagaman |
| Emily Buckley | Jodi Geiser | Jacqueline Mack | Amy Neyer | Annette Tiesman |
| Carol Butler | Judith Harmony | Helen Magers | Betty Nocero | Marcia Togneri |
| George Callard | Albert Harris | Lyn Marsteller | John Osterman | Dionn Tron |
| Linda Callard | Carol Joy Haupt | Amanda McDonald | Marilyn Ott | Barbara Turner |
| Michele Carey | Barbara Howard | Jenna McHugh | Frances Pepper | Linda Ulrey |
| Elizabeth Carter | Susan Ingmire | Leslie McNeill* | Alice Perlman | Janice Urbanik |
| Amy Cheney | Trina Jackson | Amy McPike | Susan Pfau | Rachel Wells |
| Jennifer Chubinski | Tricia Johnson | Mary Carol Melton | Julia Poston | Sallie Westheimer |
| Tanya Cornejo | Wijdan Jreisat | Kathryn Merchant | Molly Prues | Verna Williams |
| Alva Jean  Crawford | Ellen Katz | Elizabeth Meyer | Aftab Pureval | Julia Witten |
| Marylou Creelman | Robert Killins | Emily Meyer | M. Elizabeth Rader | Dwinelva   Zackery |
| Melissa Currence | Bruce Kintner | Ross Meyer | Barbara Rinto |   |
| Kathleen   DeLaura | Mary Jo Lane | Norah Mock | Suzanne Rohlfs |   |
* Founder