All-In Cincinnati
Building Racial Equity as we Honor, Celebrate and Love Black Women 
A community-led equity coalition focused on systemic change. 
All-In Cincinnati aims to deepen, amplify, and multiply local and regional efforts to build equitable, thriving neighborhoods. Equity is not just about fairness and social justice. Equity drives economic growth—smart and sustainable growth. Equity is about working together, honestly and openly, to create a new, single snapshot of a county where everyone has a spot to fill and an active role to play.
Greater Cincinnati Foundation is a champion of this work alongside our funding partners bi3,  Carol Ann and Ralph V. Haile, Jr. Foundation, Fifth Third Foundation, Interact for Health and United Way of Greater Cincinnati.
Connect
---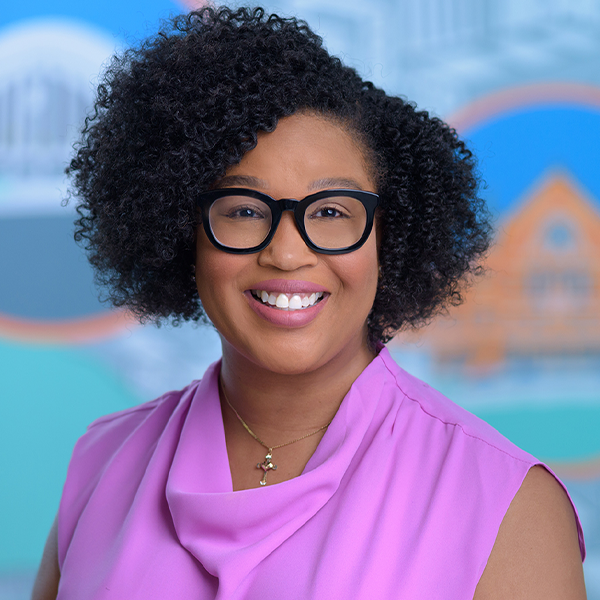 Denisha Porter
Executive Director, All-In Cincinnati
513-768-6141
Are You All-In?
Embracing equity means embracing the idea that a person's opportunities shouldn't be determined by race, ethnicity, gender, nativity, religion, sexual orientation, disability status, zip code or family income.
Cincinnati, we are ready to pave the road to equity. We're confident we can get there. But we need your help. And we need you to go all-in.
Join Us
Interested in joining the All-In Cincinnati Coalition? Connect with us today!
Community Impact Report
All-In Cincinnati is a coalition of committed organizations that have coalesced around dismantling racial inequity in the region by focusing on the Black community. From its roots at the Policy Link Conference in 2015, All-In Cincinnati formalized its efforts in 2017 and released its first report in October 2018 highlighting racial disparities in health, housing, education, economic mobility, and justice. 
Recent Work in the All-In Community
Truth
All-In Cincinnati has partnered with the Association of Children's Museums and the Center for Community Resilience to pilot a national community-based Truth and Reconciliation process aimed at promoting racial healing, fostering equity and building community resilience through policy change. Our innovative approach will involve multiple generations in creative expression, oral-storytelling and town hall discussions to create a shared understanding of the lived experience of racial trauma with critical examination of policies and practices that have driven inequitable outcomes for Black women in the Greater Cincinnati region.
We've partnered with the Black American Tree Project. The Black American Tree Project is an interactive workshop that educates us about the legacies of slavery in modern American society, its after-effects on Black Americans, and the deep rooted systems that pervade today.
Racial Healing
All-In Cincinnati has partnered with Dr. Gail Christopher and The Health Collaborative to pilot racial healing circles within all health systems in Greater Cincinnati. 
The Cincinnati National Day of Racial Healing, hosted by All-In Cincinnati and the Center for Truth, Racial Healing & Transformation (TRHT) at the University of Cincinnati, is an annual event to contemplate our shared values and create the blueprint together for #HowWeHeal from the effects of racism.
Transformation
Health
In Health, we've partnered with Kroger for a low-contact, convenient service that allows customers to shop online for groceries using SNAP benefits or EBT cards and pick up their order curbside at a nearby Kroger store.
We have partnered with 84.51 to update the food distribution map to include an overlay of Black women in poverty to address food access.
The Hamilton County Board of Commissioners declared Racism a Public Health Crisis. Their resolution outlines action steps to address systemic racism and promote justice, including supporting All-In Cincinnati and other local organizations driving racial equity issues.
We have partnered with The Health Collaborative to address Covid-19 community testing, education and awareness, and data sharing. 
Housing
In Housing, we've partnered with LISC to support rental and eviction protection policies and the Affordable Housing Trust Fund with Cincinnati City Council.
Economic Mobility
For Economic Mobility, we've partnered with the Women's Fund and provided support for the passage of the Salary History Ban and voted to endorse the passage of Issue 7.
We've partnered with Co-op Cincy and the Business Legacy Fund to support Black Female owned businesses. 
Education
In Education, we've partnered with Dr. Gail Christopher and local universities to implement Rx Racial Healing trainings throughout the county. The University of Cincinnati now has a Racial Healing Center and will host racial healing circles.
All-In Cincinnati officially voted to endorse the passage of the Cincinnati Preschool Promise – Issue 17.
We've partnered with Cincinnati Public Schools to address the digital divide as well as to assist in developing an Anti-Racism policy for the district.
Justice
For Justice, we've partnered with the Community Economic Advancement Initiative and the Urban League to prioritize testing and mask distribution in Black communities.
Additionally, the City of Cincinnati approved recommendations from our partnership with Cincinnati Black United Front and the Ohio Justice and Policy Center regarding the Collaborative Agreement and healthy policing.
We've passed a policy sponsored by Council member Jan-Michele Lemon Kearney to encourage City officials and staff to take part in the Racial Equity Matters "Groundwater" and "Phase 1" sessions. Groundwater and Phase 1 Trainings are designed to create a culture of racial equity consciousness. All training will be provided at no cost to the City thanks to the generosity of multiple allies, including presenting sponsor bi3.
Our People
All-In Cincinnati Core Team
Kristen Baker, LISC Greater Cincinnati and Northern Kentucky
Elizabeth Bartley, Invest in Neighborhoods
Jena' Bradley, United Way of Greater Cincinnati 
Amber Brown, Mayerson Academy
Markiea Carter, City of Cincinnati Department of Economic Inclusion
Michael Coffey, Racial Equity Consultant 
Rasheda Cromwell, Greater Cincinnati Foundation 
Meghan Cummings, Greater Cincinnati Foundation
Eric DeWald, HealthPath Foundation of Ohio
Jennifer Ingram, Calibrated Lens
Chara Fisher Jackson, Cincinnati Preschool Promise
Shawn Jeffers, Youth At The Center
Dr. Camille Jones, Public Health Advocate
Diane Jordan, Thembi Speaks
Shawn Manns-Collins, Fifth Third Bank
Chandra Mathews-Smith, United Way of Greater Cincinnati
Dr. Kimya Moyo, DePaul Cristo Rey High School
Joele Newman, Peaslee Neighborhood Center
Eileen Cooper Reed, Intersections
Iris Roley, Cincinnati Black United Front
Dr. Meredith Shockley-Smith, Queen's Village
Rickell Smith, YWCA
Kiana Trabue, bi3
Rick Williams, The Home Ownership Center of Greater Cincinnati
Ashlee Young, Interact for Health
Funder Representatives
Rasheda Cromwell, Greater Cincinnati Foundation
Eric DeWald, HealthPath Foundation of Ohio
Chandra Mathews-Smith, United Way of Greater Cincinnati
Jena' Bradley, United Way of Greater Cincinnati
Rachel Foote McKinney, Interact for Health
All-In Cincinnati Coalition
Comprised of over 150 community members committed to making the Greater Cincinnati region a more equitable place where everyone can thrive.
Monthly coalition meetings are open to the public and are held the fourth Thursday of every month
Contact Denisha Porter, All-In Cincinnati Director to receive meeting reminders.
Our Community Partners
Get Involved
Review Our Values
We are building an equitable, diverse and inclusive community.
We need to have a consistent and persistent voice for equity in the broader community and challenge others to rise.
We are ensuring that those most affected by inequities are co-creators.
We work with humility and courage and are willing to take risks.
We are flexible, adaptive, and transparent.
We are vulnerable with one another in order to grow, learn, and build trust.
We struggle together and grow in unity through empathy and warmth.
Our commitment to action requires both leading and following.
We will consistently turn the mirror on ourselves and exist within the discomfort that it creates.
We value data-informed decision-making.