Economic Mobility
Economic mobility – or increasing income and wealth to improve life outcomes - is a critical indicator of robust economic growth and thriving communities. To maximize mobility for all, smart communities need to advance an equitable growth strategy that creates quality jobs, increases human potential and expands opportunity for everyone.
Pursuing an equitable growth strategy will make us stronger.
Unlock the Potential
In 2019, had there been no gaps in income by race, Greater Cincinnati's GDP would have been $9.2 billion [1] stronger. What this indicates is that opening higher paying roles to people of color will boost the economy for everyone.  Yet in Ohio, Black incomes has fallen compared to White's [2] - from 92 cents on the dollar in 1979 to 76 cents in 2019. Workers of color need to be in higher quality jobs to ensure greater economic mobility for all.
By 2040, people of color will make up nearly half of Hamilton County [3]. Unlocking the potential of this diverse workforce will be a boon to our regional economy.
Business leaders, community advocates and elected officials increasingly recognize inequity hinders economic growth. They understand the tremendous opportunity in front of us lies in racial and economic inclusion. Wage and employment gaps by race have not only been bad for people of color—they have held back our entire economy. When wages rise in communities, so does consumer spending and the quality of neighborhoods. Rising income is a key driver of economic growth and job creation.
By eliminating racial disparities and the income gap, we can strengthen families, communities and the local economy for everyone.
Annual Fund
---
The Annual Fund fuels Greater Cincinnati Foundation's community leadership work, such as economic mobility. Be part of the change.
Economic mobility for Black women
Black women present the best opportunity for economic mobility and growth in the Greater Cincinnati region. Black women have a high desire to participate in the workforce, with a prime-age labor force participation rate of 78.3% in the region [4]. As of 2020, an astounding 17% of Black women are in the process of starting or currently running new businesses [5].
Narrowing the gap in income [4] between Black women and other demographics presents the next growth opportunity for our region.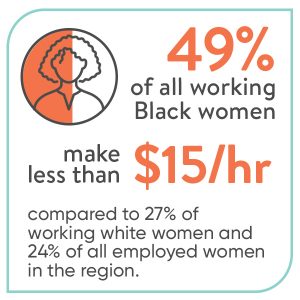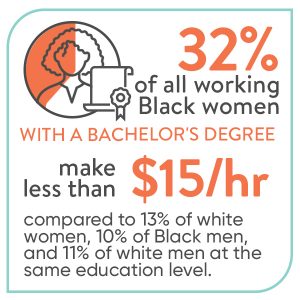 Just as sidewalk curb cuts benefit everyone – not only those with physical disabilities – so would removing barriers for Black women seeking opportunities for quality jobs.  Economic mobility takes us all to greater heights. 
Learn more about why leveraging Black women's talent, education and skills will boost the local economy and create economic opportunities for everyone.
Tap into the talent from within
Black women are supporting our region in various capacities. They are educators, healthcare workers, business professionals, entrepreneurs, leaders and more. Yet, they face more challenges than other demographics to access resources and opportunities. Their stories highlight the talent that Black women bring to the table and the opportunity for all of us to benefit from more equitable systems.
Whitney Hollingsworth
Web Developer, altafiber
"It's pretty difficult for individuals to grasp opportunities if they don't understand those opportunities exist, which is why mentorship and coaching are so invaluable."
Barbara Smith
President - Journey Steel
"We are all in this together. Until we really are in this together...change will not happen."
Tiffany Johnson-Dunn
CRNA, Seven Hills Anesthesia
"What I will tell young Black girls who were told they couldn't do certain things, do it anyway. You got it in you."
Tianay Amat
President & CEO, Cincinnati Works
"I think there's value in a diverse room. Having people from all walks of life to come to the table and have solutions on how we can make this a more fair, equitable and just community - to me, is the answer." 
Jan-Michele Lemon Kearney
Vice Mayor, City of Cincinnati
"We really need the voice of Black women. It's important to understand that it's attainable. No barrier is insurmountable. Regardless of background, economic status, race, job, education - everyone's voice is needed in public service. Everybody has something to offer."
Josselyn Okorodudu, 
Director of Community Strategies, Cradle Cincinnati
"Anybody is capable of leadership no matter what your identity is - like me as a Black woman, me as a woman who didn't come from a great background - I am capable of leading and making a change in my community."
Investing in Economic Mobility
Strategic planning and data-driven decision making ensure that GCF can connect people with purpose and form partnerships to tackle the most pressing issues in the region. GCF has taken a leadership role in addressing racial equity and improving economic mobility for Black women by investing in initiatives that assist individuals and their families in becoming self-sufficient, staying healthy, building wealth, and accessing quality jobs and business opportunities. 
UpTogether
UpTogether provides low-income families with cash to achieve their goals as they contribute their data to a national platform that helps support social capital as it tracks progress towards those goals. This data has shown meaningful increases in income and savings with corresponding decreases in dependence on public assistance.
ECDI partnership
Economic & Community Development Institute (ECDI) and Women's Business Center of Greater Cincinnati provide access to coaching, mentorships, networking opportunities, loans and co-working spaces for Black women-owned small businesses. This effort expands job creation, revenue and tax dollars for our region.
Make a Difference
GCF cannot do the work alone. We need the collective wisdom, will and action of the community to create a vibrant and equitable region for everyone.
Join us in the movement.
Download the employer toolkit to learn how your business can attract and retain a diverse workforce.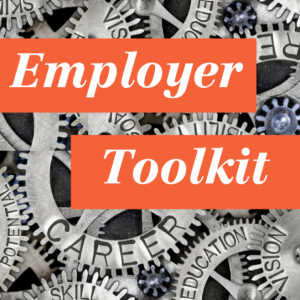 Register for an upcoming Racial Equity Matters educational series to understand the barriers and opportunities for supporting diversity and inclusion in our region.