Racial Equity Matters
Greater Cincinnati Foundation (GCF) is committed to conversations about racial equity that build connections and move us forward with enhanced insights and shared purpose. To help advance that imperative goal, GCF offers a series of educational virtual trainings.
Groundwater and Phase 1 are conducted by the Racial Equity Institute (REI) and focus on understanding and addressing the root causes of racism. Impact Circles are held and facilitated by Greater Cincinnati Foundation and are set up to assist the community as they move to action.
Sessions
Groundwater
A half-day introduction session to racial equity that uses stories and data to present a perspective that racism is fundamentally structural in nature. By examining characteristics of modern-day racial inequity, the presentation introduces participants to an analysis that most find immediately helpful and relevant.
Groundwater is open to all who are interested in continuing their equity journey and due to its introductory nature, is recommended prior to Phase 1 for those who do not frequently examine systemic racism.
Phase 1
A two-day training designed to develop the capacity of participants to better understand racism in its institutional and structural forms. Like Groundwater, Phase 1 does not focus on personal bigotry or bias, but presents a historical, cultural, and structural analysis of racism.
For those concerned about discussing systemic racism with their peers, we would recommend beginning with the virtual Groundwater presentation.


We encourage individuals to participate in these sessions, especially Phase 1, more than once and offer alumni free voucher codes upon request. Please reach out to racialequitymatters@gcfdn.org  to request a voucher code.
Impact Circles
Comprised of Racial Equity Matters alumni (individuals who have taken Groundwater and Phase 1), these smaller groups continue conversations around race and equity and are a space for people to gather, learn and collaborate. Facilitated by GCF, Impact Circles help individuals explore how they would like to activate around racial equity in our community.
If you have any questions, please scroll down to view our FAQ section.
Connect
---



Meghan Cummings
Vice President, Civic Advancement

Laura Wulker
Associate, Racial Equity Matters
513-768-6127
racialequitymatters@gcfdn.org
2023 Schedule
We recommend taking Groundwater prior to Phase 1.
Mission Minute
REM Participants
After Phase 1, one group of Racial Equity Matters participants came together to regularly discuss individual challenges and how to move forward in their racial equity work. 
"This hands down, was the most impactful thing that I have done to broaden my horizons" - Lindsey Bonadonna, entrepreneur 
Thank You to our Sponsors
Sponsorship opportunities are now available. Please join us in catalyzing a movement, educating the community and making Cincinnati a more vibrant place to live.
View Sponsorship Opportunities
Leadership Sponsor
Solidarity Partners
| | | |
| --- | --- | --- |
| | | Fifth Third Private Bank |
Connect
---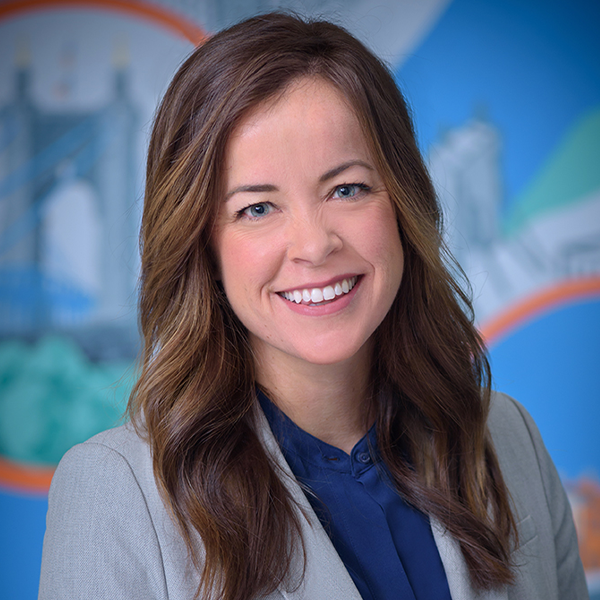 2022 Community Impact Report
We are excited to share with you our Racial Equity Matters Community Impact Report. In this piece we've lifted up past participants' personal thoughts and insights of the series. As always, we welcome your input and will continue to do this important work moving forward.
We are stronger together.
Common Questions About Racial Equity Matters Series
How do I know if I am registered? Can I update my registration?
Registered individuals receive a confirmation email and reminders leading up to the date(s) of the session. If you'd like to double check, please contact racialequitymatters@gcfdn.org. If you would like to update your registration, please follow the link in the email.
Unfortunately, I must cancel my registration. May I transfer my seat to a friend?
Due to the incredible response to these trainings, we are not accepting transfers of registration. We ask that you follow the link in your confirmation email and cancel your registration. Your cancellation will allow someone else to participate.
What is the Cost?
The cost for these events has been heavily subsidized. It is $25 for Groundwater and $75 for Phase 1, this is thanks to the generous sponsors affiliated with Greater Cincinnati Foundation. If this cost represents a hardship for you, please reach out to us at racialequitymatters@gcfdn.org.
May I register a large group?
We can accommodate large requests by either assigning seats across multiple sessions or advising groups to contact REI directly to host their own session. Generally, we allow up to 10 people from a single organization in each Groundwater and 5 people from a single organization in each Phase 1. Contact racialequitymatters@gcfdn.org.
I want to ensure that cost is not a barrier for others to participate. How do I make a donation?
Thank you for your interest in supporting this important work. There is an option to give in the More Info section of the registration page. Additionally, we welcome individuals and organizations interested in sponsoring specific dates or the full series. Contact Colleen McCarthy Blair at colleen.blair@gcfdn.org to explore a partnership.
Are there opportunities for continued learning?
Yes, Greater Cincinnati Foundation is committed to conversations about racial equity that build connections and move us forward with enhanced insights and shared purpose. To that end, we recommend several resources to help you on your racial equity journey.