Celebrating 60 Years with Acts of Kindness and Generosity
September 21, 2023
In honor of our 60-year anniversary, the staff at Greater Cincinnati Foundation is participating in 60 acts of kindness and generosity. From pulling weeds to playing basketball with kids, picking up trash and sorting diapers, the GCF staff has been hard at work giving back to the community we love so much. How do you give back?
Marketing Team is All Hands in at the Civic Garden Center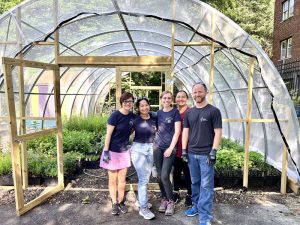 The GCF Marketing team dropped by the Civic Garden Center to work on a new hoop house, pull weeds and get to know the grounds at the Civic Garden Center. The Civic Garden Center began in 1942 to teach people to grow food and care for the environment during the Victory Gardens movement. Today, the Civic Garden Center still teaches others to grow through its community gardens and provides an extensive list of programs, educating others about local ecology. Learn more about the Civic Garden Center and get involved at www.civicgardencenter.org.
Caring for our Neighbors with People Working Cooperatively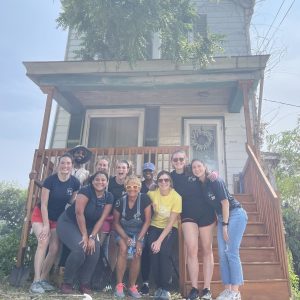 Staff members at GCF had the opportunity to leave desk work behind and get their hands dirty by helping neighbors with home maintenance projects. The team joined People Working Cooperatively (PWC) in Norwood to paint a community member's front porch and landscape. PWC has been strengthening our community for over 48 years, providing home repairs and accessibility modification services to aid residents – helping them stay healthy and independent in their homes. To become a part of PWC's volunteer base, visit www.pwchomerepairs.org.
Paddle on Towards a Cleaner Little Miami River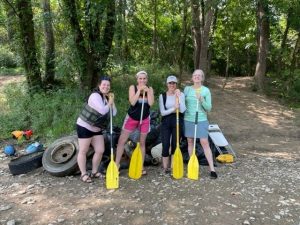 GCF staff had a unique opportunity to canoe down the Little Miami River, cleaning up trash along the way. The effort, led by the Little Miami Conservancy, ensures the community's rivers are safe and beautiful for people and wildlife to enjoy. Little Miami Conservancy was founded in 1967. Since its founding, the organization has been dedicated to the restoration and protection of the environment along the Little Miami National Wild & Scenic River. To join the conservancy efforts, visit www.littlemiami.org.
Individual Acts of Kindness and Generosity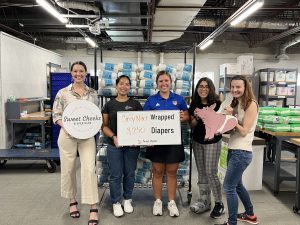 In addition to teamwide volunteer efforts, staff at GCF have taken it upon themselves to leverage their time, talent and treasure to give back to our community. GCF staff members Jen Lopez volunteered with Saturday Hoops, Krischa Barangan packed diapers with Sweet Cheeks Diaper Bank, and Tara Behanan knitted hats for Crayons to Computers. In addition, many other staff members have stepped up to give back across the region.