Celebrating Philanthropy Across the Region
September 27, 2023
Greater Cincinnati Foundation (GCF) has had the honor of working with many philanthropists throughout our 60-year history in the region. The collective impact of these philanthropists is incredible – resulting in over $1.55 billion in grants for our region and countless hours of volunteer work. Each year, we celebrate three of these changemakers through our Jacob E. Davis Volunteer Leadership Award, Bridge Builder Award and The Devou Cup.
Jacob E. Davis Volunteer Leadership Award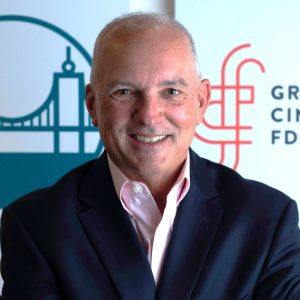 The Jacob E. Davis Volunteer Leadership Award is presented annually by the Foundation to honor volunteers who stand out because of their leadership, vision, creativity and generosity of spirit. Jacob E. Davis was GCF's first Governing Board chairman and the Foundation's volunteer director from 1978 until 1987.
This year's recipient is Bob Coughlin, founder and former CEO and chairman of Paycor, a human capital management software company.
Mr. Coughlin is also the founder and a board member of the Cincinnati Flying Pig Marathon. He also serves on the board of the Cincinnati Zoo and Botanical Gardens. In 2020, Mr. Coughlin founded Friends of Exuma, a nonprofit working to supports local causes in Exuma, Bahamas.
Mr. Coughlin is a passionate advocate for youth development, experiential learning, support for the disabled, and environmental conservation, among other philanthropic sectors.
Bridge Builder Award
GCF has had the privilege of working with many professionals, including estate planners, financial advisors, insurance professionals and others, who connect their charitably inclined clients with GCF's philanthropic experts. The Bridge Builder Award is given each year to a professional advisor who has been a supporter of the Foundation.
Michael A. Hirschfeld is this year's Bridge Builder Award recipient. Mr. Hirschfeld is a Senior Counselor in the law firm of Bricker Graydon LLP and has been extensively involved in various civic and charitable organizations over his 46 years practicing law, currently serving as Vice Chair on the board of Cincinnati Children's Hospital Medical Center. Actively involved with GCF, Mike is a trustee of the Thomas J. Emery Memorial and received the Chartered Advisor in Philanthropy (CAP®) designation through the American College of Financial Services, participating in GCF's first CAP Study Group.
The Devou Cup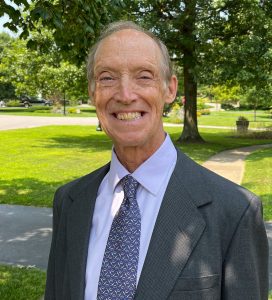 The Devou Cup was created in 2004 by The Northern Kentucky Fund to honor the generosity of a donor who has made a profound difference in the quality of community life in Northern Kentucky.
Mike Hammons is the recipient of the 2023 Devou Cup. Mr. Hammons is a well-known advocate for children, currently serving as the director of advocacy for the Learning Grove. He is also the original architect and establisher of GCF's Northern Kentucky Fund, now celebrating its 25th year.
Mr. Hammons has served on more than 70 local boards and committees and led the Kentucky Philanthropy Initiative – which sparked the Endow Kentucky Tax Credit – funding public-good projects across the state.