BLINK® to Bathe the Roebling Suspension Bridge in Color, Light & Sound
May 28, 2019
IN THE NEWS: GCF's Lighting the Bridge at BLINK 2019
Cincinnati.com   River City News    FOX 19   WLWT    WCPO    WVXU   City Beat
Photos from our Lighting Up the Bridge BLINK Preview Event.
CINCINNATI—May 30, 2019 – In celebration of one of the greatest of all Greater Cincinnati icons, BLINK®, with generous support from Greater Cincinnati Foundation, will transform the John A. Roebling Bridge into a monumental piece of art, October 10-13, 2019. Working closely with the Roebling Bridge Historical Society, Kentucky Transportation Cabinet and officials in Cincinnati, Ohio, and Covington, Kentucky, BLINK will use light, color and sound to enhance the current architectural lighting and bring the bridge to life.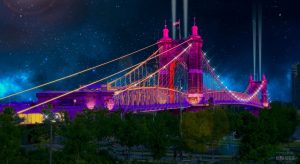 "Our concept is to make 'the singing bridge' … sing!" said Steve McGowan, owner and partner of Brave Berlin, one of the producers of BLINK. "We will focus on the most grand and predominant features of the bridge, including the anchorage, gateway towers, arches and spires. It is our goal to illuminate the river in a magic glimmer of color and reflection."
 "Greater Cincinnati Foundation connects people with purpose in Ohio, Kentucky and Indiana – and there's no better symbol of that integral connection than the first bridge to link our communities," said Ellen Katz, president and CEO of Greater Cincinnati Foundation. "As we work to build a more vibrant Cincinnati region, Greater Cincinnati Foundation is proud and excited to support the beautiful and creative lighting of the Roebling Suspension Bridge, as part of BLINK."
"The historical significance of this beloved iconic landmark makes it the centerpiece of BLINK and our continued desire to celebrate Cincinnati as the Future City. We look forward to bathing the Roebling Suspension Bridge in beautiful color, light and sound," added Dan Reynolds, owner and partner of Brave Berlin, one of the producers of BLINK.
BLINK, presented by ArtsWave, will take place from Cincinnati's Findlay Market neighborhood to Covington – bridging two states, and spanning 30 city blocks and the Ohio River. The only U.S. event of its kind, BLINK will feature large-scale projection mapping, murals by international artists, interactive light sculptures and diverse entertainment. Free and open to the public, BLINK is produced by The Agar, ArtWorks, Brave Berlin, the Carol Ann and Ralph V Haile, Jr./U.S. Bank Foundation and the Cincinnati USA Regional Chamber.
BLINK's inaugural four-night event in October 2017 spanned 20 blocks and was experienced by more than one million visitors, the largest gathering of people ever in downtown Cincinnati and Over-the-Rhine.
###
About Greater Cincinnati Foundation
As the region's leading community foundation, Greater Cincinnati Foundation connects people with purpose in an eight-county region in Ohio, Kentucky and Indiana. GCF is leading the charge toward a more vibrant Greater Cincinnati for everyone – now, and for generations to come.