Greater Cincinnati Foundation Takes Deep Dive Into Workplace Equity
October 21, 2021
Effective January 2022, Queen City Certified is now Ellequate
Examination of policies, practices earns region's first gold certification from Queen City Certified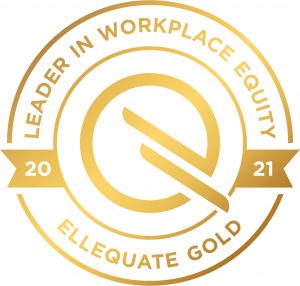 CINCINNATI – Greater Cincinnati Foundation (GCF) – the region's leading community foundation serving an eight-county region in Ohio, Kentucky and Indiana – has been undergoing a multiyear examination of gender and racial equity in its operations with Queen City Certified. This rigorous process, and the resulting policies and practices, have earned GCF the honor of being the first organization in Greater Cincinnati to be certified as a Gold Leader in Workplace Equity.
Queen City Certified, an employer certification and leadership program for workplace equity, helps leaders design inclusive workplaces through the implementation of evidence-based solutions that disrupt bias in operational systems. While equity and inclusion have long been foundational for GCF, the Queen City Certified process has helped the organization refine and reframe its values and continue to build a culture of belonging and sensitivity, said Ellen M. Katz, GCF President/CEO.
"We were an organization with a mission; now, we're an organization on a mission," Katz said. "We're holding ourselves accountable by doing what we say we're going to do, and we're more impactful because of it."
The exacting path to gold certification has included: ongoing listening sessions for GCF's 55-person team; an in-depth policy assessment; staff surveys; and pay equity audits in 2019 and 2021 to ensure gender and race are not significant factors in determining pay.
Nicole Armstrong, founder and CEO of Queen City Certified, said a variety of factors have elevated GCF to a regional leader in workplace equity.
"In addition to achieving the points required for Gold certification and improving employee experience scores over the past two years, GCF has implemented policies and practices that promote intersectional workplace equity," Armstrong said. "Examples include requiring a minimum number of women and underrepresented minorities in all final candidate slates, offering fully paid parental and caregiver leave, and co-designing flexible work arrangements alongside employees at all levels. GCF is raising the bar for employers in our region."
The launch of ongoing employee listening sessions was key to the implementation of an important parental and caregiver leave policy that provides 16 weeks of paid leave for parents of any gender – a top priority identified in the sessions – and includes adoption, foster care and surrogacy. 
GCF is committed to ongoing, open examination of its policies and practices around gender and racial equity so that it can continue to "walk the talk" from the inside out. And it's encouraged by the results of an employee survey that showed 97 percent of respondents believe that GCF has taken steps to advance racial equity within the organization and believe women are well represented in leadership roles. In addition, 95 percent of employees said they believe flexible work arrangements – a key priority identified by employees — are supported. Through intentional hiring, GCF's workforce diversity today is close to 50 percent.
About Greater Cincinnati Foundation
As the region's leading community foundation, Greater Cincinnati Foundation connects people with purpose in an eight-county region in Ohio, Kentucky and Indiana. GCF is leading the charge toward a more vibrant and equitable region for everyone – now, and for generations to come.
About Queen City Certified
Queen City Certified (QCC) is the nation's first data-informed employer certification and cohort-based leadership program for intersectional workplace equity. Since 2018, organizations across sectors have leveraged QCC's proprietary, award-winning certification program to create more diverse, equitable, and inclusive workplaces, develop meaningful action plans, and achieve greater results in recruiting and retention—making them employers of choice and industry leaders.
Media Contacts
###